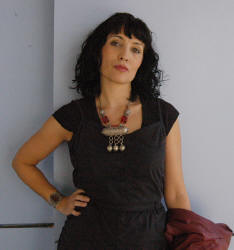 Author, journalist, and photographer Hadani Ditmars has reported from Lebanon, Israel/Palestine, and Iraq, often examining the human costs of sectarian strife as well as cultural resistance to war, occupation and embargo.



Hadani is a former editor at

New Internationalist

magazine and last travelled to Baghdad in 2010 to write and photograph the

May 2010

issue Iraq,

7 years later, the legacy of invasion

.



Her best selling book Dancing in the No Fly Zone (chosen by the Globe and Mail as one of 100 best and most influential books of 2005) recounts her time in Iraq from 1997 until the fall of 2003 and is one of the few books on the troubled nation that covers pre and post invasion reality. As Iraq continues to weather violent occupation, theocratic thuggism and civil strife, Dancing in the No-Fly Zone serves as an eerily prescient tribute to a culture and a people at the breaking point. Hadani's next book Ancient Heart, is a political travelogue through seven historical sites. Employing architecture as metaphor in the cradle of civilization, the book examines the ravages of decades of war and oppression on the Iraqi soul, and what it means for our world heritage.

Hadani was stationed in Beirut for nine months in 1992 working on an interactive theatre/video project that brought together displaced Muslim and Christian children, wrote for the first joint Israeli-Palestinian magazine post Oslo accord in 1994 era Jerusalem, and continues to report from the occupied territories on cultural and political issues. She traveled to Iran for Sight and Sound and Vogue magazine in 1997 (when Rafsanjani was in power), reporting on gender issues, politics and cinema.

Hadani's work, which has also taken her to Zanzibar, Guatemala, Colombia, Egypt, Ireland, Indonesia, Italy, India, Jordan, Tunisia and Uzbekistan, has been published in the New York Times, the London Independent, The Globe and Mail, Newsweek, Time, Maclean's and Ms. Magazine and broadcast on CBC and BBC radio and television.

Hadani has been a regular CBC Radio's Dispatches contributor since the show's debut in 2001. She was also a regular current affairs commentator on Rogers OMNI television program The Standard.